Introduction
In today's fast-paced world, the demand for versatile and low-maintenance decorative solutions has led to a significant rise in the popularity of artificial plants, particularly artificial trees. Whether it's a lush green corner in a corporate office or a vibrant display in a retail space, artificial trees have proven to be an ideal solution, effortlessly transforming any space they inhabit.
The beauty of artificial trees lies in their ability to create a natural and inviting atmosphere without the extensive care required by real plants. From fake plants that mimic the intricate details of real foliage to outdoor artificial plants designed to withstand direct sunlight, the range of options available is vast and varied. This ultimate guide aims to delve deep into the world of artificial trees, exploring their applications in both indoor and outdoor environments, and providing you with all the information you need to make an informed decision for your space.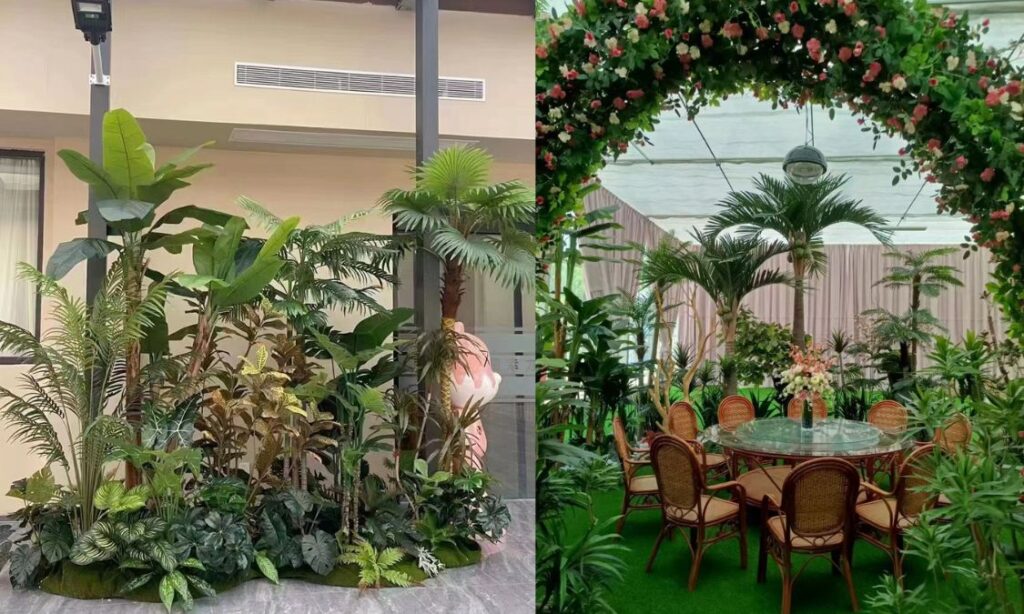 As we navigate through the various aspects of artificial trees, from the benefits of low maintenance to the aesthetic appeal of green foliage, we will uncover the secrets to choosing the best artificial plants for your specific needs. Whether you are looking to add a touch of greenery to your indoor space or searching for UV-resistant options for outdoor use, this guide has got you covered.
So, if you are on the quest for quality, versatility, and beauty, look no further. Join us as we explore the wonderful world of artificial trees, and discover how they can bring life, color, and vibrancy to any environment, all year round.
The Rise of Artificial Trees in Modern Decor
In recent years, the artificial plant industry has seen a remarkable transformation, with artificial trees becoming a staple in modern decor. The versatility and ease of maintenance of these faux plants have made them a popular choice among businesses looking to enhance their spaces with greenery.
A Shift in Perception
Gone are the days when fake plants were seen as a less desirable alternative to real plants. Today, the quality and realism of artificial trees have improved significantly, offering a lifelike appearance that can fool even the keenest green thumb. This shift in perception has played a crucial role in the rise of artificial trees in commercial and residential spaces alike.
Quality and Durability
One of the key factors contributing to the popularity of artificial trees is the premium quality of the materials used. Unlike real plants, artificial trees do not require soil, water, or sunlight to maintain their beauty. They stand tall and vibrant, regardless of the weather conditions or the amount of light available, making them a reliable choice for both indoor and outdoor environments.
Versatility in Design
Artificial trees offer an unparalleled level of versatility in design. From towering palm trees that add a tropical vibe to any space to smaller potted plants that bring a touch of nature to a desk or tabletop, there is an artificial tree to suit every need and preference. This versatility allows businesses to create a cohesive and natural-looking environment, regardless of the space's limitations.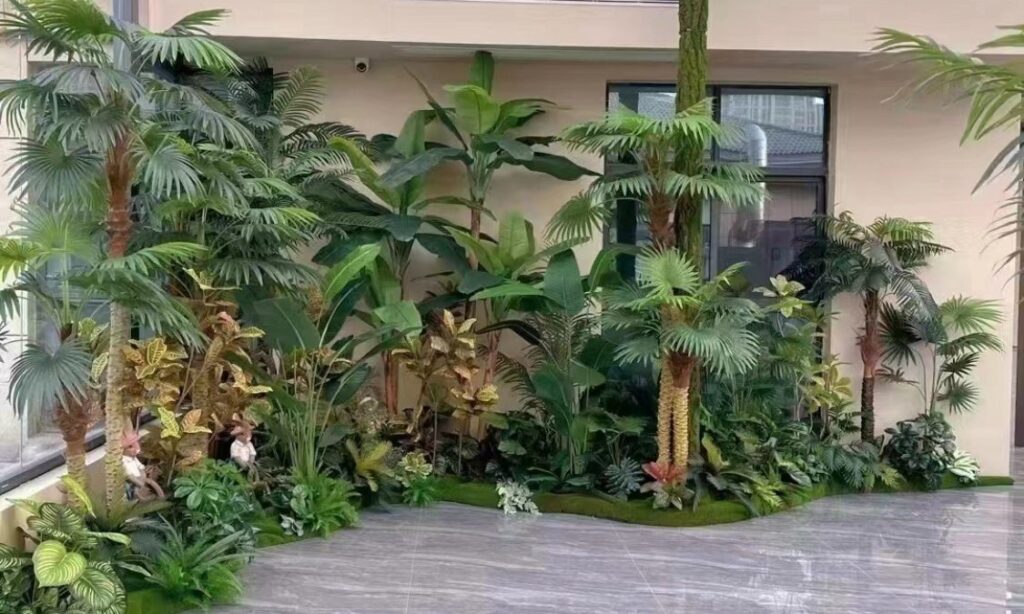 Cost-Effective Greenery
Investing in artificial trees is not only a choice for aesthetic appeal but also a smart financial decision. While the initial cost of high-quality artificial trees might be higher than that of real plants, the long-term savings are significant. Artificial trees require minimal maintenance, saving businesses time and money that would otherwise be spent on watering, pruning, and replacing dead or dying plants.
Enhancing Mental Health
The presence of greenery in a workspace has been linked to improved mental health, increased productivity, and a general sense of well-being. Artificial trees provide a way to reap these benefits without the challenges of maintaining real plants. They offer a constant source of natural beauty, creating a serene and inviting atmosphere that enhances the mental health of employees and visitors alike.
Indoor Applications of Artificial Trees
Artificial trees have found their way into a myriad of indoor spaces, proving to be a versatile and attractive option for businesses and commercial settings. Their ability to bring a sense of nature and tranquility to any space, without the need for constant care, makes them a preferred choice for many.
Transforming Workspaces
In the corporate world, creating a pleasant and welcoming environment is key to boosting productivity and employee satisfaction. Artificial trees play a significant role in this, offering a touch of greenery that can transform a mundane office space into a vibrant and lively area. From tall artificial trees gracing the corners of a conference room to smaller potted plants adorning individual desks, the options for enhancing workspaces are endless.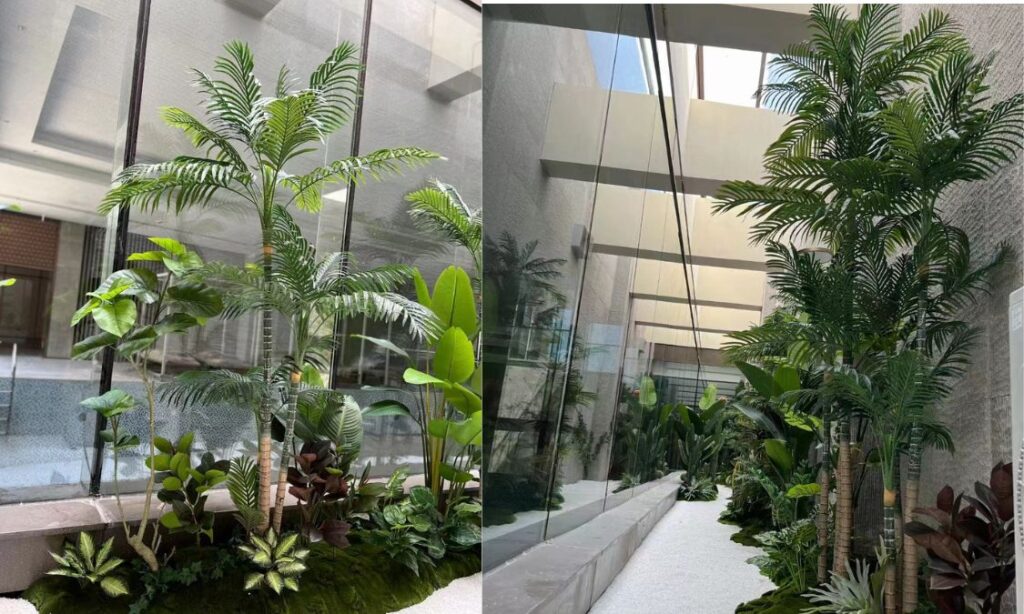 Retail and Hospitality
In retail settings, the visual appeal of the space is paramount. Artificial trees provide an easy and effective way to create an inviting atmosphere that encourages customers to stay longer and engage more with the products. Similarly, in the hospitality industry, hotels and restaurants use artificial trees to create a luxurious and exotic ambiance, ensuring that guests have a memorable experience.
Health and Wellness Centers
The calming effect of greenery is well-documented, making artificial trees a popular choice in health and wellness centers. They contribute to a serene environment that promotes relaxation and well-being, all while being easy to maintain and keep clean.
Event Decor
Artificial trees have also become a go-to option for event decor, thanks to their portability and ease of setup. Whether it's a wedding, corporate event, or trade show, artificial trees can be used to create stunning displays and backdrops, adding a touch of nature and elegance to any event.
Educational Institutions
Schools and universities are incorporating artificial trees into their decor to create a more inviting and stimulating learning environment. They add a sense of life and vibrancy to classrooms, libraries, and common areas, enhancing the overall aesthetic of the educational institution.
Outdoor Applications of Artificial Trees
Artificial trees are not just limited to indoor spaces; their durability and UV resistance make them a perfect fit for outdoor environments as well. From commercial landscapes to public spaces, outdoor artificial trees provide a lush green appearance year-round, regardless of the weather conditions.
Enhancing Commercial Landscapes
Businesses are increasingly recognizing the value of curb appeal, and outdoor artificial trees are a key element in creating an inviting exterior. They offer a consistent green appearance, adding beauty and structure to commercial landscapes without the need for regular maintenance.
Public Spaces and Parks
In public spaces and parks, where the volume of visitors can take a toll on natural vegetation, outdoor artificial trees provide a durable solution. They withstand the elements and heavy foot traffic, ensuring that public spaces remain attractive and welcoming.
Outdoor Events and Gatherings
For outdoor events and gatherings, the reliability of outdoor artificial trees is unmatched. They provide a lush backdrop and enhance the overall ambiance without the risk of wilting or damage, ensuring that the event space looks its best throughout the duration of the event.
Rooftop Gardens and Patios
In urban environments, rooftop gardens and patios are popular spaces for relaxation and socializing. Outdoor artificial trees contribute to these green oases, providing a touch of nature and privacy without the complex maintenance requirements of real plants.
Hospitality and Retail Exteriors
The exterior of hotels, restaurants, and retail stores plays a crucial role in attracting customers. Outdoor artificial trees enhance these spaces, creating an appealing and welcoming entrance that leaves a lasting impression on visitors.
Material and Quality: What to Look For
When investing in artificial trees for your business, paying attention to the material and quality is paramount. The longevity and appearance of the artificial trees largely depend on the quality of the materials used, making it a critical factor in your purchasing decision.
Understanding Different Materials
Artificial trees are made from a variety of materials, including silk, plastic, and fabric. Each material has its own set of benefits and considerations. For instance, silk trees offer a more realistic appearance but may require more care to keep them looking fresh. Plastic plants, on the other hand, are highly durable and suitable for outdoor use, especially when UV protection is a priority. Fabric plants provide a middle ground, offering a balance between realism and durability.
Assessing Durability for Outdoor Use
For outdoor artificial trees, durability is a key consideration. Look for trees that are specifically designed for outdoor use, with UV-resistant materials to prevent fading and damage from direct sunlight. Ensure that the trees have a sturdy body and are able to withstand various weather conditions, from strong winds to heavy rain.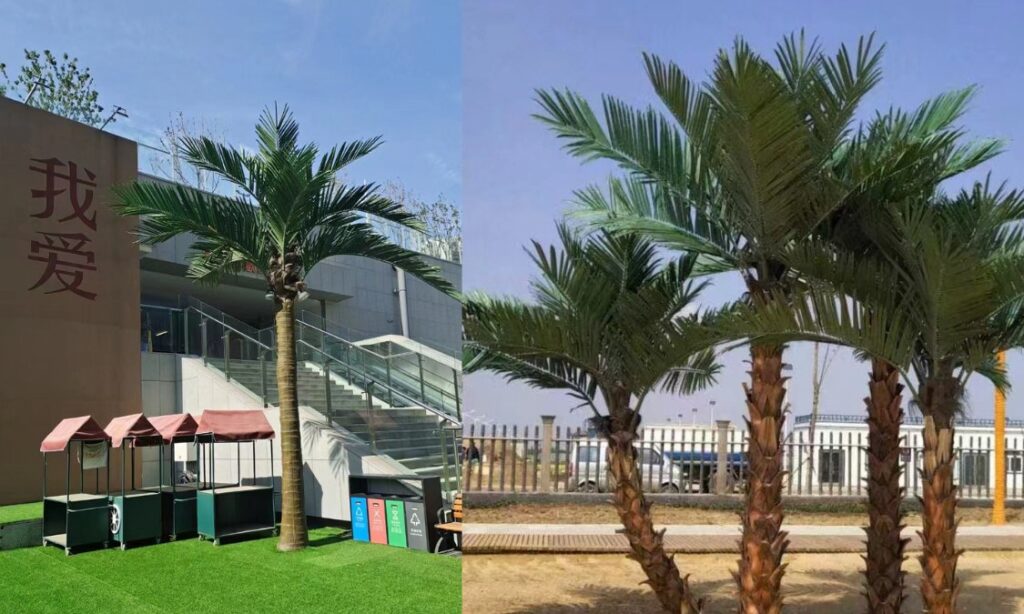 Checking for Realistic Appearance
The goal of using artificial trees is to mimic the beauty of real plants, so opting for trees with a realistic appearance is crucial. Look for trees with detailed leaves, natural color variations, and a lifelike structure. The more realistic the tree, the more it will enhance the aesthetic appeal of your space.
Verifying Quality and Safety Standards
Ensure that the artificial trees meet quality and safety standards, especially if they will be used in public spaces or commercial settings. Check for certifications and compliance with industry standards to ensure that you are investing in a safe and high-quality product.
Customization and Personalization
In the world of artificial trees, the possibilities for customization and personalization are virtually limitless. Tailoring your selection to fit the unique needs and branding of your business can significantly enhance the impact of your greenery, creating a memorable and distinctive environment.
Tailoring to Your Space
Every business space is unique, and your artificial trees should reflect that. Whether you need tall, majestic trees for a grand entrance or smaller, subtle greenery for intimate spaces, there is an artificial tree to suit every requirement. Consider the size, shape, and color of the trees to ensure they complement the existing decor and ambiance of your space.
Branding and Corporate Identity
Artificial trees offer a unique opportunity to reinforce your brand identity. Customizing the trees to align with your company's colors, values, and aesthetic can create a cohesive and branded environment. This not only strengthens your brand image but also creates a lasting impression on clients, customers, and employees.
Creating Unique Displays
Beyond the trees themselves, consider how they are displayed. Custom planters and unique arrangements can add an extra layer of personalization, turning your artificial trees into works of art. Explore different materials, shapes, and sizes for planters to find the perfect match for your trees and space.
Seasonal and Thematic Variations
Embrace the flexibility of artificial trees by incorporating seasonal and thematic variations into your decor. From autumnal colors and spring blossoms to holiday-themed decorations, artificial trees can be easily adapted to suit any occasion, ensuring your space is always in tune with the season or theme.
Maintenance and Care
One of the standout advantages of opting for artificial trees is their low maintenance nature, allowing businesses to enjoy lush greenery without the extensive care required by real plants. However, to ensure that your artificial trees remain in top condition, a certain level of care is still necessary.
Easy Cleaning Procedures
Artificial trees accumulate dust and dirt over time, which can diminish their vibrant appearance. Regular cleaning is essential to maintain their beauty. Thankfully, the cleaning process is straightforward and requires minimal effort. A soft cloth or duster, along with a mild cleaning solution, is typically all that's needed to keep your trees looking fresh and lively.
Longevity and Durability
With proper care, artificial trees can last for many years, providing a long-term greenery solution for your business. Their sturdy body and durable materials make them resistant to wear and tear, ensuring they remain a constant feature in your decor.
No Need for Sunlight or Water
Unlike real plants, artificial trees do not require sunlight or water to thrive. This means they can be placed in any area of your business, regardless of light conditions, without the risk of wilting or dying. This low maintenance aspect is particularly beneficial for businesses with busy environments or limited staff resources.
Storage and Portability
If you decide to update your decor or need to move your artificial trees for any reason, their portability is a significant advantage. Many artificial trees are designed to be easily disassembled and stored, ensuring they remain in good condition when not in use and can be effortlessly transported to different locations as needed.
Overcoming Common Misconceptions
Despite the numerous benefits and advancements in the quality of artificial trees, some misconceptions still linger. Addressing these misconceptions is crucial for businesses to make informed decisions and fully embrace the potential of artificial trees.
Debunking the "Fake" Stigma
The term "fake plants" may carry a negative connotation for some, implying a lack of authenticity or quality. However, modern artificial trees have come a long way, boasting a realistic appearance and premium quality that can rival real plants. It's important to look beyond the "fake" label and recognize the craftsmanship and innovation that goes into creating these lifelike artificial trees.
Durability in Outdoor Conditions
Some may question the durability of outdoor artificial plants, especially when exposed to harsh weather conditions. The truth is, many artificial trees are specifically designed for outdoor use, featuring UV protection and robust materials to withstand direct sunlight, rain, and wind. Proper landscape planning can further enhance their longevity, ensuring they remain a steadfast part of your outdoor decor.
Environmental Considerations
The environmental impact of artificial trees is another area of concern for some businesses. While it's true that real plants offer natural benefits, artificial trees provide a low-maintenance alternative that doesn't require the use of water, pesticides, or fertilizers. Additionally, their long lifespan means they don't need to be replaced as frequently as real plants, resulting in less waste over time.
Cost-Effectiveness
The initial investment in high-quality artificial trees may be higher than purchasing real plants, but the long-term savings are significant. Artificial trees eliminate the ongoing costs associated with watering, pruning, and replacing dead or dying plants, making them a cost-effective solution for businesses looking to enhance their spaces with greenery.
Incorporating Artificial Trees in Interior Design
Artificial trees offer a versatile and stylish solution for enhancing interior spaces. Their ability to blend seamlessly with various design themes and styles makes them a favorite among interior designers and business owners alike.
Complementing Different Styles
Whether your interior design style is modern, rustic, or anything in between, there is an artificial tree that can complement it perfectly. Sleek and minimalist designs can benefit from the clean lines of a faux palm tree, while more opulent spaces may be enhanced by the lush foliage of a larger artificial tree.
Creating Focal Points
Artificial trees can serve as stunning focal points in a room, drawing the eye and adding a touch of nature to the space. Placing a tall artificial tree in a strategic location can create a sense of height and drama, while smaller trees can add interest to otherwise overlooked areas.
Enhancing Ambiance
The presence of greenery has a calming effect, and incorporating artificial trees into your interior design can enhance the overall ambiance of a space. They bring a sense of life and vibrancy, creating a welcoming environment for employees, clients, and visitors.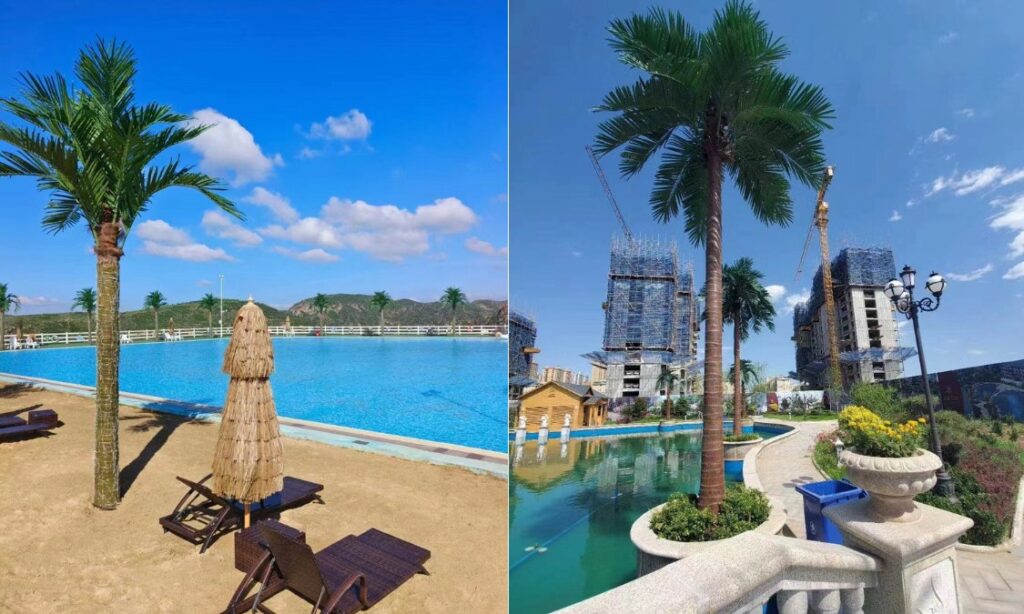 Versatility in Placement
One of the major advantages of artificial trees is their versatility in placement. They can thrive in any part of your interior space, regardless of lighting conditions, making them a flexible option for enhancing your decor.
Enhancing Outdoor Spaces with Artificial Trees
Artificial trees are not just for indoor use; they can significantly enhance outdoor spaces as well, providing beauty, structure, and a touch of nature without the maintenance required by real trees.
Versatility in Landscaping
Outdoor artificial trees offer versatility in landscaping, allowing you to create the desired look regardless of the climate or soil conditions. From tropical palm trees to sturdy evergreens, you can select trees that complement your outdoor space and withstand the elements.
Low Maintenance Beauty
One of the biggest advantages of outdoor artificial trees is their low maintenance nature. They do not require watering, pruning, or protection from pests, making them an ideal solution for busy commercial spaces or areas with limited access to water.
UV Protection for Longevity
Quality outdoor artificial trees are designed with UV protection to prevent fading and damage from direct sunlight, ensuring they maintain their vibrant appearance year-round.
Creating Outdoor Ambiance
Artificial trees can transform outdoor spaces, creating a welcoming ambiance for customers, employees, and visitors. They add greenery and life to patios, courtyards, and other outdoor areas, enhancing the overall experience of the space.
Sustainability and Artificial Trees
In today's eco-conscious world, businesses are increasingly looking for sustainable options in all aspects of their operations, including their choice of greenery. Artificial trees offer a sustainable alternative to real plants, providing long-lasting beauty without the environmental impact of traditional gardening.
Long Lifespan Reduces Waste
The durability and long lifespan of artificial trees mean they don't need to be replaced as frequently as real plants, resulting in less waste over time. This longevity contributes to their sustainability, as it reduces the demand for new products and the resources required to produce them.
No Need for Water and Chemicals
Artificial trees eliminate the need for watering, pesticides, and fertilizers, all of which can have negative impacts on the environment. By choosing artificial over real plants, businesses can contribute to water conservation and reduce their use of harmful chemicals.
Recyclable Materials
Many modern artificial trees are made from recyclable materials, further enhancing their sustainability. Businesses can take comfort in knowing that their choice of greenery is not only beautiful and practical but also environmentally responsible.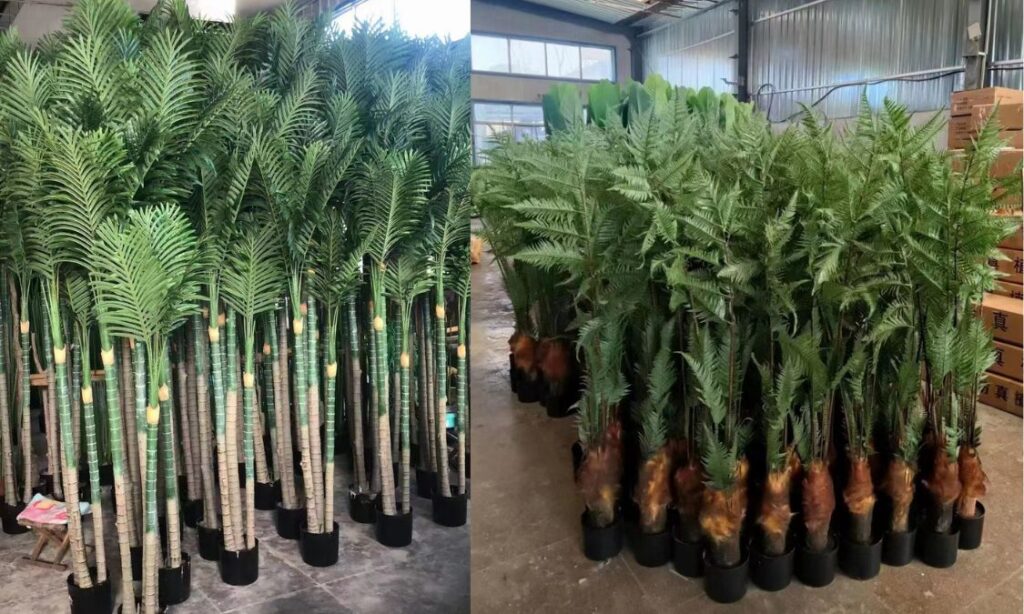 Choosing the Right Supplier for Artificial Trees
Selecting the right supplier is a crucial step in ensuring you receive high-quality, durable, and realistic artificial trees for your business. Here are key factors to consider when making your choice:
Reputation and Reliability
Research potential suppliers thoroughly to ensure they have a strong reputation in the market. Look for customer reviews and testimonials to gauge their reliability and the quality of their products.
Range of Options
A good supplier should offer a wide range of artificial trees to choose from, ensuring you can find the perfect fit for your space and design preferences. Check their product pages for a variety of styles, sizes, and types of trees.
Quality Assurance
Ensure the supplier is committed to quality. Look for information on how they source their materials and the processes they use to create their artificial trees. High-quality materials and craftsmanship are key to ensuring the longevity and realistic appearance of the trees.
Customer Service and Support
Choose a supplier that offers excellent customer service and support. They should be readily available to answer your questions, provide recommendations, and assist with any issues that may arise.
Installation and Setup
Once you have selected the perfect artificial trees for your space, proper installation and setup are key to ensuring they look their best and remain secure. Here's how to get it right:
Choosing the Right Location
Consider the overall design of your space and choose locations that enhance the aesthetic appeal and flow of the area. Ensure the trees are placed securely and are not obstructing walkways or exits.
Secure Installation
For larger artificial trees, secure installation is crucial to prevent tipping or damage. Follow the manufacturer's instructions carefully, and consider seeking professional help for installation if necessary.
Adding Finishing Touches
Once your trees are in place, add finishing touches to enhance their appearance. This could include adding decorative planters, adjusting the branches for a natural look, or incorporating additional greenery or flowers.
Trends and Innovations in Artificial Trees
The world of artificial trees is constantly evolving, with new trends and innovations enhancing their realism, durability, and appeal. Staying abreast of these developments can help businesses make informed choices and select products that are at the forefront of the industry.
Advances in Realism
Manufacturers are continually improving the realism of artificial trees, using advanced materials and techniques to create lifelike leaves, branches, and trunks. The latest models boast intricate details and natural color variations, making them almost indistinguishable from real trees.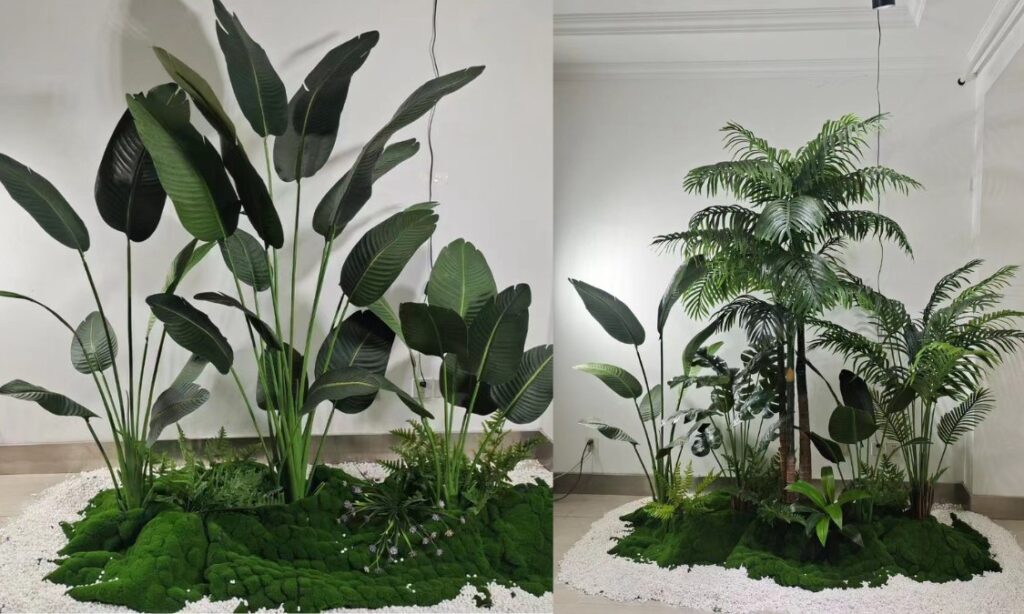 Eco-Friendly Options
As sustainability becomes a priority for businesses and consumers alike, there is a growing trend towards eco-friendly artificial trees. These products are made from recycled or sustainable materials, reducing their environmental impact.
Innovative Features
Some artificial trees now come with innovative features such as built-in lighting or the ability to withstand extreme weather conditions. These added functionalities enhance their appeal and usability, providing businesses with versatile and practical greenery solutions.
Customization and Personalization
The trend towards customization and personalization continues to grow, with suppliers offering bespoke solutions to meet the specific needs of businesses. From custom sizes and shapes to unique foliage types, the options for tailoring artificial trees to your space are vast.
Making the Right Choice for Your Business
Selecting the right artificial trees for your business is a decision that should be made with care and consideration. By taking into account the factors discussed in this guide, you can ensure that you choose trees that enhance your space, reflect your brand, and provide lasting value.
Assessing Your Needs
Start by assessing the specific needs of your space. Consider the size, style, and environmental conditions of the area where the trees will be placed. This will help you narrow down your options and choose trees that are the perfect fit.
Balancing Quality and Budget
While budget is an important consideration, it's crucial to balance cost with quality. Investing in high-quality artificial trees may require a higher initial outlay, but it will pay off in the long run with durability, realism, and overall satisfaction.
Consulting with Experts
If you're unsure about which artificial trees are right for your business, don't hesitate to consult with experts. Suppliers, interior designers, and landscaping professionals can provide valuable advice and help guide your decision.
Enjoying the Benefits
Once you have made your selection and installed your artificial trees, you can enjoy the numerous benefits they bring. From enhancing the aesthetic appeal of your space to creating a welcoming atmosphere and reducing maintenance, artificial trees are a smart choice for businesses of all types.
Conclusion
Artificial trees have emerged as a versatile and practical solution for businesses looking to enhance their indoor and outdoor spaces. Their realism, durability, and low maintenance nature make them an attractive option for a wide range of commercial applications.
In this comprehensive guide, we have explored the various aspects of using artificial trees in different environments, discussed the benefits and considerations of choosing artificial over real plants, and provided insights on maintenance, trends, and making the right choice for your business.
By taking the time to understand the options available and considering the specific needs of your space, you can select artificial trees that bring life, beauty, and a touch of nature to your business, all while enjoying the practical benefits they offer.
Remember, the key to success lies in choosing quality products from reputable suppliers, ensuring proper installation, and embracing the latest trends and innovations in artificial greenery. With these considerations in mind, you can transform your space, create a welcoming atmosphere, and make a lasting impression on clients, customers, and employees alike.